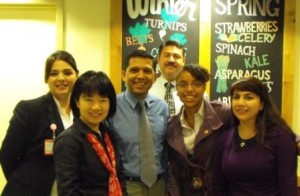 Operated by graduates of the Monterey Institute of International Studies, an internationally renowned school of translation and interpretation, Monterey Language Services draws from a wide range of interpreter networks.
Our interpreters are professionally qualified. They have studied translation and interpretation at the graduate or undergraduate level, or are professionally certified, or have received training in medical, legal and technical subject areas. They are experienced medical interpreters, legal interpreters and technical interpreters. Furthermore, they pursue continuing on-the-job training and education.
Our interpreters are not only local, able to come to our headquarters or to our client sites to perform services, but also distant, working remotely through a range of technology options such as video remote.
Our interpreters work consecutively, but also at conference, offering simultaneous interpretation.
Monterey Language Services has been providing language support to hospitals for years. A short list includes Spanish, ASL, Vietnamese, Arabic, Mandarin and Cantonese, Korean, Tagalog, Russian, French, Portuguese, German, Japanese, Punjabi, Gujarati, and indigenous languages such as Triqui, Mixteco, Zapotec. Even when a rare language is needed, we can vet and bring interpreters to our customers in a matter of hours.
We stand by ready 24-7, either work with a regular schedule of interpreting appointments, or provide last minute on-demand interpretation, for example for a hospital's emergency needs.
It is our goal at Monterey Language Services to provide a full line of interpretation services. And it is to that end that we maintain our huge pool of professional interpreters to serve you whenever or wherever you need them.
Monterey Language Services strives to provide the highest quality of translation and interpretation services. Please feel free to contact us for more information.