Why do we translate Deutschland into Germany
in English?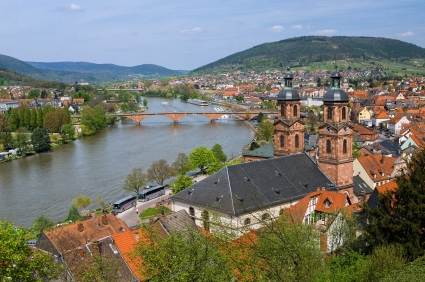 By Emily Frye
While studying abroad in France my sister and I decided to take a trip to Munich, Germany. While crossing the border by train a policewoman asked what we were doing in Europe.  I said that we were students in France and were visiting a friend in Munich.  She replied in English, "So you are studying in Frenchland."  Frenchland? We thought she obviously didn't know English very well.  However, later I realized the policewoman had been quite logical.  After all, Germany in German is Deutschland, so the term Frenchland didn't sound strange anymore.  But, it did get me thinking…
Why do we translate Deutschland into Germany in English?  A little research unveils that it's not really a translation, but a consequence of the geopolitical history of the region.  Julius Caesar had borrowed the term "German" from the Gauls. They had used it for the tribes who tried to invade their territory from across the Rhine.  It most likely meant "neighbor" or "men of the forest." Caesar used the term to coin "Germania," which simply described the entire region beyond the Rhine and Danube (present day Germany).  This led me to question the origin of many other country "translations", such as:  Hungary for Magyarország, Croatia for Hrvatska, or Finland for Suomi.
One of the most intriguing however is in the Czech language.  In Czech, Germany is Německo.  The old Slavic tribes called the groups of people that lived by the Rhine River, the Nemetes.  In old Slavic, Nemetes literally means "mute."  For the Slavic people, the language of the Germanic tribes was incomprehensible, so they appropriately named the region after its "mute" inhabitants.
Source: Schulze, Hagen (1998). Germany: A New History. Cambridge, MA: Harvard University Press, p. 4.