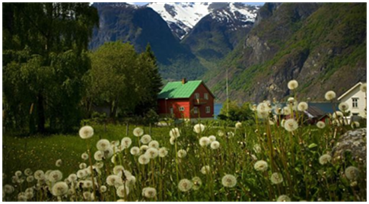 Did you know that Norwegian has a smaller vocabulary compared to English, but is richer in words describing nature and weather?  A member of our staff turned on the radio  and this interesting discussion came right up on National Public Radio.
http://thedianerehmshow.org/shows/2010-04-28/readers-review-out-stealing-horses-petterson
J
effry Frank, co-author of a translation of "The Stories of Hans Christian Andersen" from Danish to English, shared his thoughts about reading the novel, Out Stealing Horses.   When he first read it in Norwegian, he was struck by the vivid descriptions of nature and weather.  But when he read it a second time in English translation, it was the dramatic depiction of human relations element that drew his attention.
Whether we realize it or not, translation figures into every part of our daily lives—from books to movies to radio – reaching into every corner of our culture.  Translation is all around in today's world.