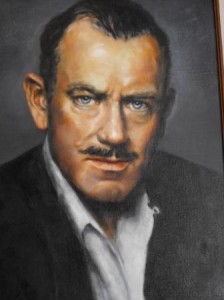 The name John Steinbeck is probably more associated with Monterey County than is any other name.  In light of Steinbeck's unrivaled influence in Monterey County, several of us decided to check out the house in which he grew up in Salinas.  Here we were at 132 Central Avenue, Salinas. 
Visiting Steinbeck's house was beyond edifying.  This Victorian-era abode gave a sense of what it was like to grow up in the early twentieth century, almost to the point of making a person feel as if he is a young John Steinbeck. 
We were not only visiting a historic landmark, but also having a literary experience by being in the house. A quote that we think really does a good job summing up Steinbeck is what he said while accepting the Nobel Prize for Literature: "Literature is as old as speech.  It grew out of human need for it and it has not changed except to become more needed."  The first thought that came to mind was that if we were to replace "Literature" with "Translation" or "Interpretation", the quote would sound great as well.
We started to debate who the greatest American author is who can be compared to Shakespeare, Molière and Cervantes.  We came to the conclusion that Mark Twain, Ernest Hemingway and John Steinbeck are the ones who have come the closest.
Discussing literature while having lunch in John Steinbeck's childhood home puts one in the right frame of mind to feel compelled to come back to the office and write a blog about this encounter with one of America's greatest authors.
Not only was Steinbeck a great author, but he also represented the heart and soul of this region of California.  In his novels, Steinbeck looked at the ethnic makeup of Monterey County, at the lives of different groups of people, and at the significance of the agricultural industry in central California's economy. 
His novel East of Eden is set in Salinas, while Cannery Row is set in Monterey.  These novels show Steinbeck's relation to the environment in which he grew up, and even give a sense of the cities today. In looking at the best and worst of central California, John Steinbeck showed himself to be probably the best that the region has ever had to offer.  There will very likely never be another like him.