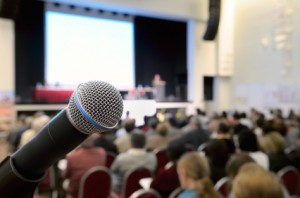 Conferences are exciting, especially when they include an interpretation service.  Multicultural and multilingual aspects are added to the conference, creating additional dimensions beyond the subject matter, the speakers, the participants, the location, the room and other details.
Before the curtain opens, there is a lot of preparation to be done. From selecting a team of conference interpreters, putting together interpretation equipment & the audio and video system, setting up interpreter rooms or interpreter booths, to studying the conference materials in advance, there must be an architecture, a design, a goal in order to achieve the best result in a conference interpretation assignment.
With so many aspects involved, conference interpretation is a perfect example of a team at work.  A team consists of project managers, interpreters, engineers, technicians and conference organizers. Orchestration becomes such a complicated task that it requires a division of work and a smaller team within the team.  Therefore, a conference interpretation event is usually supported by a group of professionals rather than a single-handed individual effort.
At Monterey Language Services, a simulation is often conducted before a conference interpretation event goes live.  This quality check process is valuable to ensure that we contribute to the success of a conference.  From one successful event to another, we have had many wonderful experiences and truly enjoyed every part of conference interpretation.  We are proud to call "conference interpretation services" one of our best expertise!
Monterey Language Services strives to provide the highest quality of translation and interpretation services. Please feel free to contact us for a quote.