Monterey Language Services will be at the Middlebury Institute of International Studies' annual Translation, Interpretation, and Localization Management Career Fair, which kicks off at 9:00 AM on Friday March 3 and finishes up at 12:30 PM.
This year we're doing it a little differently!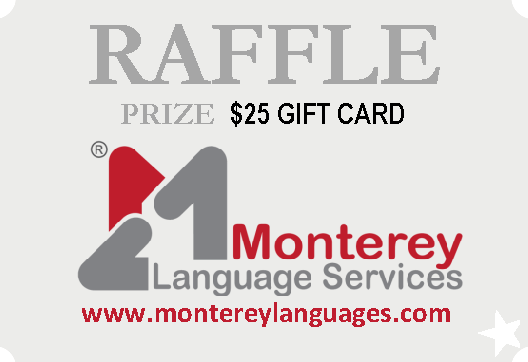 Of course we'll be collecting resumes, talking to students, and describing our exciting internship opportunities, but we also want to make it a fun event and help students shed some stress – that's why we've decided to really put the "fair" in "career fair!" We'll be giving out raffle tickets at the Monterey Language Services booth, with a $25 gift card prize for each of our three winners!
Nervous about talking to us as employers? Don't be, relax, and come on up! We're serious about our work, but easy-going in person. We want students to feel comfortable and relaxed at our booth: that's the best way to meet and get to know new people, and we want to meet you and hear about your unique skills and experience. It may be business as usual at the other booths, but with Monterey Language Services it should be an unforgettable time for everyone who steps up.
Come by our booth, tell us about yourself, and we'll do the same. Don't forget to take one of Monterey Language Services' raffle tickets, you may be the lucky winner of a $25 gift card! And don't forget to tell your friends and fellow classmates!