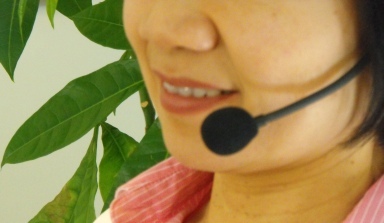 In a previous blog, we explained various means of delivering Whisper Interpretation. In fact, all simultaneous interpretation involves whispering in order to not disturb others. A booth offers the benefit of further reducing disruptions to the audience and the interpreter.

When interpreting inside the booth, the interpreter listens to the speaker through a headset and simultaneously interprets into a microphone. The audience can only hear the interpretation through the headsets provided at their seats.
A typical interpretation booth has a huge clear glass screen in the front, which is important, as it allows the interpreter to see the speaker and have a better picture of what is going on outside of the booth.
Inside the booth, there is an interpretation system equipped with a microphone, a headset, a control console, and sometimes, a monitor which allows the interpreter to have a closer look at the speaker. The interpretation system usually has a mute button that enables the interpreter to block noises made when he or she needs to talk to other interpreters.
Interpretation inside the booth can minimize disturbance for both the interpreter and the audience. Technology and booths are a nice amenity, yet an experienced interpreter is prepared for any situation.  Monterey Language Services offers a full range of interpretation services, including simultaneous interpretation in a booth. Our mission is to assist communication, whether you prefer simultaneous using a booth, through a whisper, or consecutive interpretation.