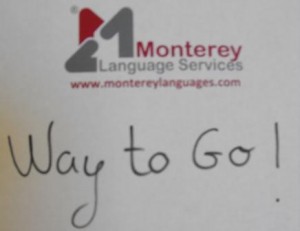 If you stop on a treadmill when it is running, you fall off. If you stop moving forward in life, there is no difference.
This semester I participated in an internship at Monterey Language Services. My learning expectations when going into the internship were to learn how to respond to opportunities.
After my internship, I exceeded my educational expectations. I learned that being proactive is the best way to be successful. It will allow you to start tasks, complete them and if you do them correctly, you will be set up for more in the future. Also, deadlines and quality are vital.
Monterey Language Services has this desire. A need to produce things on time in the best means possible. This is a good strategy to follow for every product or service developed by a company.
Overall my internship at Monterey Language Services has expanded my horizons much more than an in-text education would bring me. It has focused my attention to finding the opportunity in every problem instead of finding the problem in every opportunity.
I now own a company called Interkonnekt where we do social media marketing. This would never have happened without the help of Monterey Language Services giving me the realization and motivation to take action.
Baby steps, one step at a time in the right direction. That is all it takes. Always moving, never stagnant. That is the key to success.
By Matthew Stone