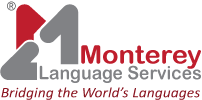 NEWS RELEASE
Contact:         Mei-Ling Chen, Director of Translation
831-655-3460 (Office)
Translation Services Launches 40-hour Minimum Training
Required in the Healthcare Interpreting Industry
MONTEREY, Calif. (11/19, 2014) – Monterey Language Services (MLS), an independent translation and interpretation company in the Monterey area, announced its new intensive 5 day, 40 hour training course in medical interpreting. The course will take place the week of 6/1 – 6/5, 2015 and is available to online participants, regardless of location.
The Monterey and neighboring Salinas areas are home to many who do not speak English as their first language—or do not speak English at all. The importance of skilled interpreters in providing healthcare services for these residents has become increasingly evident, and the local medical interpretation industry presents a highly attractive job market for area bilinguals.
However, with increasing regulation in the healthcare interpretation field, just because you are bilingual does not mean you are qualified to interpret at a hospital or clinic. The era of family member "interpreters" is over.  "Just being bilingual, it's not enough.  But if you have a certificate from Monterey Language Services, it's good," said Victor Sosa, the head of the Language Access at Natividad Medical Center, during his presentation at the workshop.
"Today, industry standards require medical interpreters to show proof of 40 hour training, successful assessment, and qualification," said Mei-Ling Chen, Director of Translation at Monterey Language Services, who is also a Monterey Institute of International Studies trained interpreter.
MLS's 40 hour course will provide the required minimum training and aims to help participants advance toward national certification. Training will be conducted by experienced medical interpreters and trainers. Upon successfully completing the course, participants will receive a certificate of attendance. Those who pass the exit exam will also receive a certificate of competency in medical interpreting from Monterey Language Services.
When the course was first announced to the participants of MLS's successful community service workshop, including two attending online, they expressed great interest in the inner workings of the medical interpretation field and were eager for a more in-depth look.
"I was wondering if they (medical interpreters) start out as many of us, interpreting for family and friends, or if they have jobs where the employer saw a need to better train the janitor, for example, so he could fill two roles," said one participant, "as was the case with my father in 1969."
The course will next take place 6/1/2015 – 6/5/2015, cost: $800 onsite, $750 online. The flyer and registration form can be downloaded at our blog, www.montereylanguages.com/blog/.  For more information, please call 831 655 3460.
More press related to our 40 hour training:
(no need to pay right away)
Return to Info Center: 40 hr Medical Interpreter Training