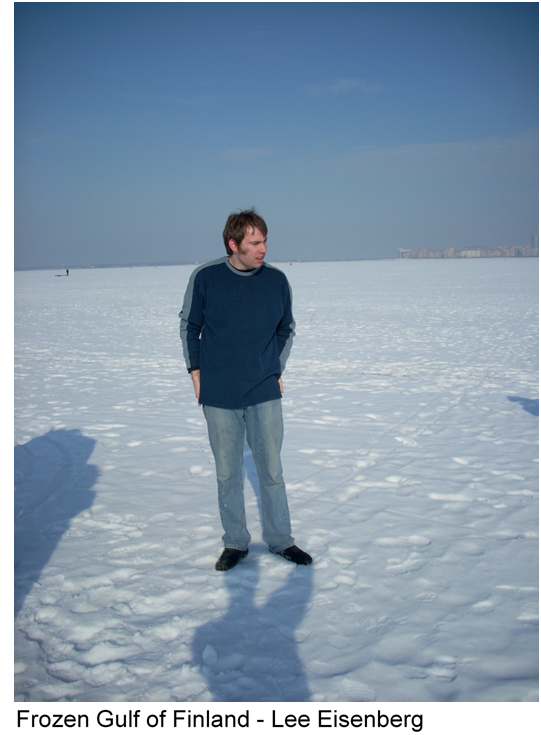 Lee Eisenberg, one of our team members and Russian-to-English translators, shares a wonderful story about how he handles translation between two different cultures using the definition of "real estate" as an example, and how subject knowledge is important for a translator.
The picture of him was taken in St. Petersburg, Russia, standing on the frozen Gulf of Finland.  By walking north, one could theoretically walk all the way to Finland.
Full Story by Lee Eisenberg:
Language is the symbolic representation of culture so to produce a meaningful translation from one language to the next requires domain knowledge about the target culture.
The experience that helped me more than any other to understand the need for domain knowledge was my internship in a Moscow real estate office.  Translating Russian documents into English not only taught me the specific Russian translation to real estate (недвижимость), but also taught me how to think about real estate differently.
The word недвижимость literally translates to "immobility," because real estate does not move once it is built.  This forces one to ask why real estate is called that in English; what does the concept of "real estate" mean?  So, I did some research and found a definition.  Most languages treat real estate as something physical, while English uses a legal definition.  There are more explanations of the words "real estate" at:
http://www.straightdope.com/columns/read/1555/why-is-it-called-real-estate
In conclusion, I would recommend practical translating experience in a specific domain in which one is translating to anyone who is entertaining a career in foreign language translation.